The Brazen Laver – Part 2
Aaron remembered well the wonderful feeling he had when he got out of the water after being baptized. He was so full of joy that he was hardly able to contain himself! He was ready to share his joy with the whole world! But even more he was looking forward to seeing again the One Whom he now loved more than anything or anyone else. His desire was soon fulfilled. The Lord came once again…
"Lord!" Aaron exclaimed. "I went down to the river and got baptized as You told me to do!"
"Very good, Aaron," the Lord replied. "I am glad you obeyed for to obey is better than sacrifice as it says in I Samuel 15:22."
"Lord," Aaron continued with excitement, "I was filled with so much joy!"
The Lord smiled, "You see, Aaron, doing the will of God will always fill you with joy. Remember it. Now, do you still remember what the baptism is all about?"
"Oh, yes, Lord!" Aaron exclaimed again. "It means that I was buried with You into death and as You raised up from the dead, so I also can now walk in the newness of life. Furthermore, I have been sanctified and consecrated. And now I will work for You only."
The Lord seemed to be pleased with his answer. "Very good, My son," He said, "you remember it well. Let Me tell you what your next step is in order to get to the destination in the Holy of Holies: "Do you still remember our little box with dimensions? I am sure you do. Baptism in water was the first dimension, the natural, wasn't it? The second dimension is spiritual and it is called the baptism in the Holy Spirit. It is your next step. This baptism means that the Holy Spirit enters into you. When you were first saved, I didn't actually come into you. I had to make way for Myself – I sent My Blood. But because I really want to live in you, I will send My Spirit to you. Before you are baptized in the Holy Spirit, My Spirit dwells with you, but after the baptism He will live in you, as it says in John 14:16-17. In this baptism, comparing to the baptism in water, instead of being covered over with water, you will be covered over with the Holy Spirit, inside and outside. Just as the water covered you, so also the Holy Spirit will cover you. This time I am the Baptizer and not any man."
Aaron thought about it. He had recently met some people who told him that they desired the baptism of the Holy Spirit, but never received it. They were saying that one group is teaching that the baptism in the Holy Spirit is this and the other group is teaching it is something else. These people were saying that they were confused, because the churches are so very different. Aaron wanted to make sure that he would not be confused. He really wanted to understand it. The Lord, being able to read his thoughts, answered his question immediately.
"You see, Aaron, people are saying different things about the Baptism in the Holy Spirit, but the truth of the matter is that they are not sincere in their heart. For if they are confused, all they have to do is apply the Word of God and prove for themselves what the baptism in the Holy Spirit is. In Luke 11:10-13 it is written, For every one that asketh receiveth; and he that seeketh findeth; and to him that knocketh it shall be opened. If a son shall ask bread of any of you that is a father, will he give him a stone? or if he ask a fish, will he for a fish give him a serpent? Or if he shall ask an egg, will he offer him a scorpion? If ye then, being evil, know how to give good gifts unto your children: how much more shall your heavenly Father give the Holy Spirit to them that ask him? This is the insurance policy that people have with Me. For I am a good God and have good gifts for My children."
"Lord, I know You want to live in me," Aaron continued thoughtfully, "but what is it that the Holy Spirit will do to me?"
"That's a very good question, Aaron," the Lord replied. "Let Me tell you some of the things the Holy Spirit will do: He will make you holy so that you will be like Me; He will be your Comforter (see John 14:16); you will receive power and be a witness unto Me (see Acts 1:8); you will speak the Word of God with boldness (see Acts 4:31); also, you will start caring about other people because the love of God will be shed abroad in your heart by the Holy Spirit (see Romans 5:5)."
Aaron's heart was satisfied with the answer. He knew he wanted to be baptized so that he would not miss out on the best the Lord had for him. He asked, "Lord, what can I do to receive Your Holy Spirit? Is it really that simple that I only ask You and You will give?"
"Yes, Aaron, it really is that simple. Sometimes I have people laying hands on others so that they will receive the Holy Spirit (see Acts 8:17). But sometimes I baptize people as they seek My face on their knees and ask Me."
Aaron still seemed to be thinking hard. "But, Lord," he said, "I am thinking of those people who were saying that they have been asking You for a long time yet never received the Holy Spirit. They have not only desired it, but also asked for it. Why didn't You give it to them?"
For the first time in all the visitations that Aaron had from the Lord he saw the Lord's face getting sad. His eyes were full of tears as He spoke the following words: "There are people who think that they can serve both Me and the world. They come to Me and say they want the Holy Spirit, but have sin in their life at the same time. And they don't want to be cleansed by My Blood so that I can bless them. Sometimes they say they are not sure if they really need the Holy Spirit as if they were saying that they are not sure if they want to live with Me and go with Me all the way. It hurts Me, you know. I want to bless them, I want to give them the best I have prepared for them, but I cannot enter an unclean vessel or a vessel that is not really sure that they want Me inside of them. Also, sometimes instead of seeking Me they seek speaking in tongues or prophesying. But it is only when they seek Me that I send the Holy Spirit. There are also those who pray but don't really believe that they will receive. If people want to get to the Holy of Holies, they have to fall on their face and say, 'God, I need the baptism in the Holy Spirit. Please cleanse me and give it to me.' They have to make sure they are baptized in the Spirit; they have to make sure that they have gifts, and they speak in tongues."
Tongues! The Lord had mentioned this word twice already and it really struck Aaron. He heard about tongues before and was wondering what they were good for. The Lord was pleased to see how much Aaron was interested in the heavenly matters. And because He was ready to share His secrets with the hungry and curious heart, He was ready to answer even this question.
"When I baptize people in the Holy Spirit, I give them gifts. They either start prophesying or speaking in tongues. They just get out of themselves. It is My sign that I have entered into their being and am ready to take over. I have said in Mark 16:17 that those that believe shall speak with new tongues (among other things). I would encourage you to read the Acts of the Apostles. There you will find out how many times the people spoke in tongues after being baptized in the Holy Spirit."
"Lord, what are these tongues for? Are they only a sign or is there any other meaning to them?" Aaron wanted to know.
The Lord answered, "It is written in I Corinthians 14:4, He that speaketh in an unknown tongue edifieth himself… When you speak in tongues, the Spirit speaks mysteries through your mouth and you are being edified."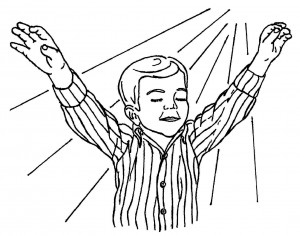 At this point, Aaron had learned what he thought he needed to know about the baptism in the Holy Spirit. He wanted it very much. He had the Blood of Jesus in his soul, but he longed for Christ to actually enter into him. Therefore, he knelt on the floor before the Lord and asked him, "Lord, would You please baptize me in Your Holy Spirit?"
Because the Lord was pleased with Aaron asking Him, He sent His Spirit and baptized him. Immediately, Aaron was filled with such power and joy that it was hard to be described. He opened his mouth and began to speak the mysteries of God in another tongue as the Lord promised him.
How about you, young reader? Have you been baptized in the Holy Spirit? If you haven't, study the subject for yourself so that you would desire to be baptized as Aaron did. We have learned that without making this step through the Tabernacle, we cannot get to the destination in the Holy of Holies. I pray that you would be inspired in seeking the Lord for the baptism in the Holy Spirit. He wants to do for you the same as He did for Aaron.
Answer the following questions to see how well you understood this chapter:
1. What is the second dimension of baptism?
2. Who baptizes in the Holy Spirit?
3. What are some of the things the Holy Spirit will do to you?
4. How can you receive the baptism in the Holy Spirit?
5. What will happen when you are baptized in the Holy Spirit?
6. What are the tongues for?