Keep Your Mind on Me
Still fresh in Aaron's memory were the three things that were hidden in the Ark of the Covenant. He was anxious to go to bed tonight. He was hoping the Lord would come to him again and teach him some more about the Tabernacle. And the Lord came…
"Aaron," He called his name.
Aaron's heart leaped with joy. He was always so excited in the Lord's presence.
"I have already visited you many times, haven't I?" the Lord said. "I have shown you the whole Tabernacle and taught you what it represents in the life of a believer. You said you wanted to be a son of God, didn't you? You have to remember: there is nothing, nothing that can stop you from becoming one, no sin, no weakness, no devil, nothing except if your mind remains on a low plain. This is where we are when we continually think about the things in this earth (food, drink, yourself, how your friends don't like you, etc.) and don't think about Me and don't obey Me. Today I have come to share with you how to continually keep your mind on Me and on the things from above. That is the only way by which you will be transformed into My image and not conformed to this world. Philippians 4:8 says, Finally, brethren, whatsoever things are true, whatsoever things are honest, whatsoever things are just, whatsoever things are pure, whatsoever things are lovely, whatsoever things are of good report; if there be any virtue, and if there be any praise, think on these things. So today I am going to teach you how to do that."
Aaron had heard from other people that it is impossible to keep your mind in the heavenlies all the time, because we are just natural people. He had to admit he kind of agreed with those people. Yet, if the Lord said it was possible, then it must be. It sounded very adventurous and Aaron could hardly wait to learn the lesson.
"Aaron," the Lord continued, "let us go over your day today. What was the first thing you did in the morning when you woke up?"
"Well, Lord," Aaron answered, "I got out of bed and the first thing I saw was the reminder on the wall that I placed there that You are the light of the world and You want me to shine. Then, I opened my Bible and found the verses about what Your Word says about the light. After that I knelt down and prayed that You would make me Your vessel so that I would shine throughout the day."
"Very well, Aaron," the Lord was pleased with His young friend. "So you kept your mind on Me when you woke up, didn't you?"
"Yes, I did, and it was not even that difficult," Aaron admitted.
"What happened next?" the Lord asked.
"Then I got washed and dressed and went down to the kitchen and then…"
"Yes, then you got upset with your sister, because she took your cup, didn't you?"
"Yes, I did. She always does it to me!" Aaron complained.
The Lord continued sadly, "Doesn't it say in Ephesians 4:32, And be ye kind one to another, tenderhearted, forgiving one another, even as God for Christ's sake hath forgiven you? Do you think that being upset over a cup is a part of My character? Where do you suppose your mind was when this incident happened?"
"I am afraid it was very carnal," said Aaron humbly. "I suppose I could have just let her have my cup and enjoy it."
"Yes, you could have, and you would have received My joy instead. Every time you keep your mind on Me, I pour out a part of Me into you and your heart overflows with peace and gladness."
Aaron thought he needed to remember this.
"Then after breakfast you started your school, didn't you?" the Lord asked.
Aaron remembered how in science he was studying about the Universe and the greatness and awesomeness of God and how his heart rejoiced just to think about the Maker. Also, in math he looked at the numbers he was calculating and they reminded him of the verses in the Bible where it says that one shall put a thousand to flight and two shall put ten thousand to flight (Deuteronomy 32:30). That made him think about the Body of Christ, because the preacher preached on it on Sunday – not me and me alone any more, but the Body, and the enemy is fleeing by thousands. As Aaron thought about the Body of Christ, he remembered that Miss Jervis in the nursing home was not feeling well, so he prayed for her.
"Lord, was this all pleasing to You? Was I being transformed into Your image when I thought that way?"
"Yes, Aaron," the Lord replied. "This is how it works – keeping Me in mind in all you do."
"Then, Lord, why did I not stay with You all the time? I got so much into building my fort after lunch that I forgot everything in the world and even disobeyed my mom when she called me home."
"You have to remember, Aaron, that everything around you wants to divert you from becoming like Me. You have to practice keeping your mind on Me. The more you practice, the better you get at it. Tell me, when you learned to ride a bicycle, did you know it right away?"
"Oh, no, Lord," Aaron laughed. He thought of how many times he fell off his bike and how long it took him to be able to go in a straight line while riding.
"You see, it is the same with your mind," the Lord said, "you have to practice." Then the Lord continued, "I was pleased that you repented of your shortcoming with your mom and made it right, though. When you did, My Blood washed you all white. That is why you were able to hear the voice of the Holy Spirit later on when He told you to go and see your neighbor."
"Was it Your Spirit speaking to me, Lord?" Aaron asked. "I thought I just got an idea to go and see him! I didn't know he needed help. It was so easy to talk to him about You, Lord, while we were working."
"You see, Aaron," the Lord smiled at Aaron's puzzled face, "every time you do righteousness, it is Me prompting you to do so. Man within himself cannot do anything good, but when he is submitted to Me, I work through him to bring forth My Kingdom in this earth. Did you know that your neighbor could not get the words you spoke to him out of his mind? He even knelt down by his bed in the evening and gave his life to Me!"
"Oh, Lord," Aaron shouted, "it is so exciting to keep my mind on You! It is so adventurous!"
"Well, Aaron, what do you think would happen if your mind would have stayed on Me even until the evening?"
"I don't know, Lord," Aaron said sadly, "I guess I would have paid attention to my mom being tired and would have helped her instead of reading my book."
"You said it right, Aaron. You would have cared for somebody else other than you. Your mom was really very tired tonight and needed help even without having to ask for it."
"Lord, will You please forgive me?" Aaron asked. "I want to keep my mind on You at all times so that I would become Your son indeed."
"I forgive you, My young friend," the Lord responded. "It is My desire for you to become My mature son more than you can imagine. My Spirit will always be with you to guide you and lead you into all truth.
"Aaron," the Lord continued. "This is the last time I will come to you in this form and manner. From now on, I want you to seek Me in everything you do. I will speak to you during your day and you will know that it is Me speaking to you. Just remember: don't think on the things of the earth, but on the things from above, for that is the only way that you will be transformed into My image and become My son. Tomorrow is another day when you can practice. Remember the Tabernacle and continue to live it out. Also, go and share with others what I have shared with you."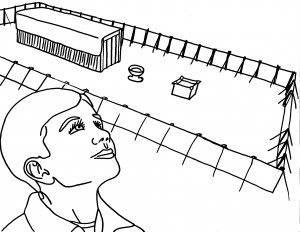 With these words the Lord departed. Aaron wanted to be sad because he knew the Lord would not come again like this. However, even though He was gone, He was still there. Aaron could feel His presence so close! He even asked Him a question about his siblings' salvation and immediately heard the answer in his heart. Is it possible that the Lord was going to be with him always and at all times so that he could always talk to Him and always hear from Him? He remembered what Jesus said to His disciples when He was physically leaving this earth: Lo, I am with you alway, even unto the end of the world (Matthew 28:20b). Aaron was excited; he knew the Lord was saying the same to him and he was ready to walk with Him always.
The End.